Lip Care and Maintenance: Upkeep for Beautiful Lips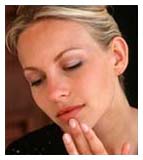 No matter how augmented, defined or full your lips may be, if they're parched and flaky it sort of ruins the whole effect, doesn't it? Dry, chapped lips are rough and unattractive – and I should know, as I was plagued with them for many years. I had chronic dry lips and couldn't maintain healthy-looking lips for longer than 2 weeks.
To help keep nice lips nice, try these lip care tips:
Drink plenty of fluids! I cannot stress enough the importance of proper hydration for beautiful lips and general good health.

Coat your lips with balm or lipstick with sunblock, especially in winter and in dry climates.

Do not pick at your lips (I am a lip picker, so trust me on this one!) Be careful about what products you place on your lips. Exfoliating products for the face will dry out your lips. If you need to exfoliate your lips, simply rub them gently with a washcloth or soft toothbrush.

Use quality cosmetics. Cheap products may contain a host of drying ingredients.

Do not lick, gnaw or nibble at your lips – it only makes matters worse.

Cold sores can wreak havoc on your smackers. Everyone knows that not only are they painful and unappealing, but they make us off limits to those we want to kiss! Cold sores can be triggered by many things:

stress

dry lips

trauma

elective trauma (surgery)

lip picking or biting

extreme temperatures

over exfoliation

sunburn

chemical peels, laser or Retin A use

microdermabrasion

cosmetic tattooing

cheap cosmetics
Lip Care Products
For nonsurgical plumping, please see our Plumping Glosses and Lipsticks Section.